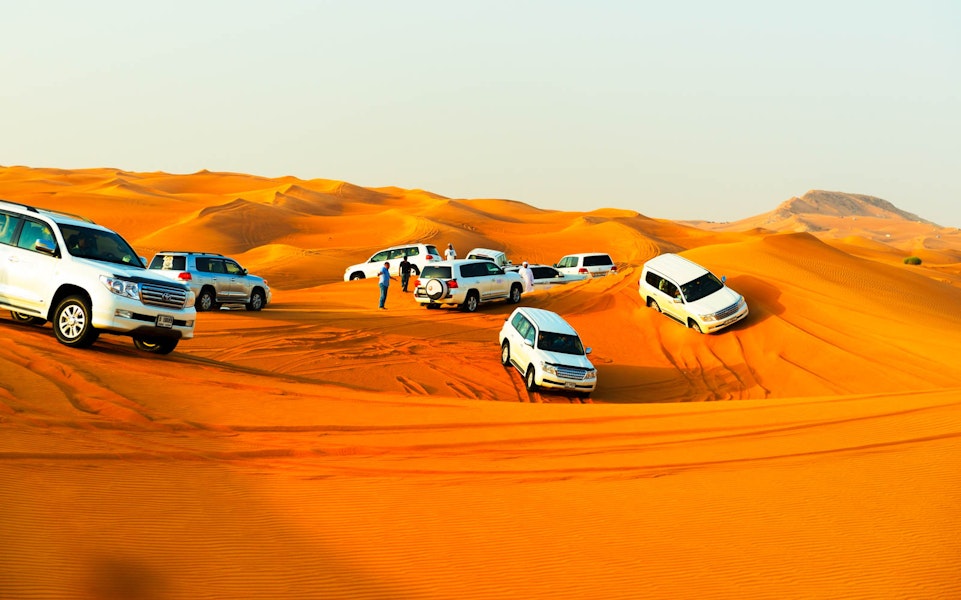 Go Dune-bashing in Dubai
Step away from the hustle and bustle of Dubai's city life. At the outskirts of the city awaits an exciting experience for you: a desert safari! There's plenty of activities you can try while on a desert safari in Dubai; from pulse-racing sandboarding and quad biking to a relaxing camel ride. One of the most exhilarating experiences while on a desert safari is dune-bashing. 
Dune-bashing in Dubai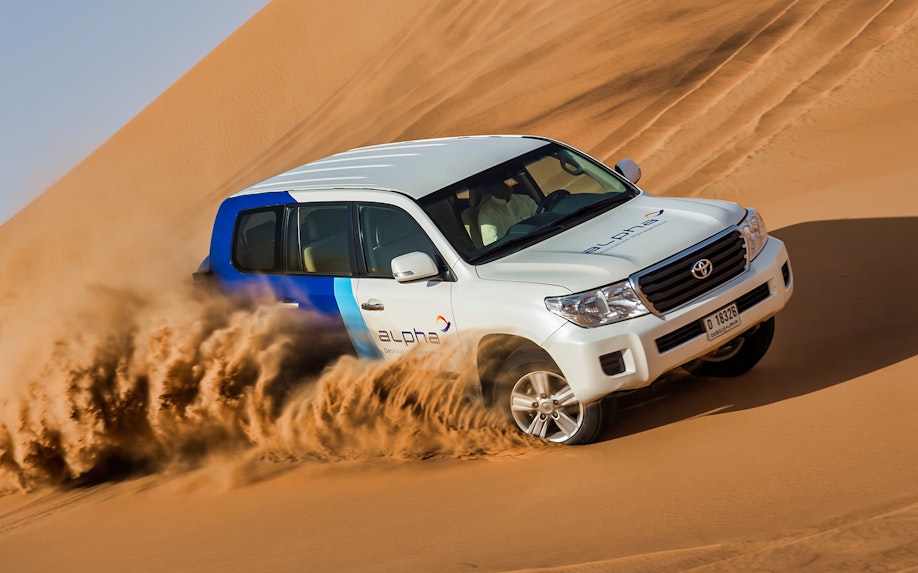 What is Dune-bashing?
Dune-bashing is a popular adventure sport carried out in desert landscapes. In a 4x4 vehicle, generally a Land Cruiser or Fortuner, your driver will take command, racing across the golden sand dunes of Dubai's deserts. The activity involves speeding along the landscape, driving up the dunes and zooming down at rapid speeds. The adventure involves sudden breaks and drops at every turn and corner, promising the experience of a lifetime!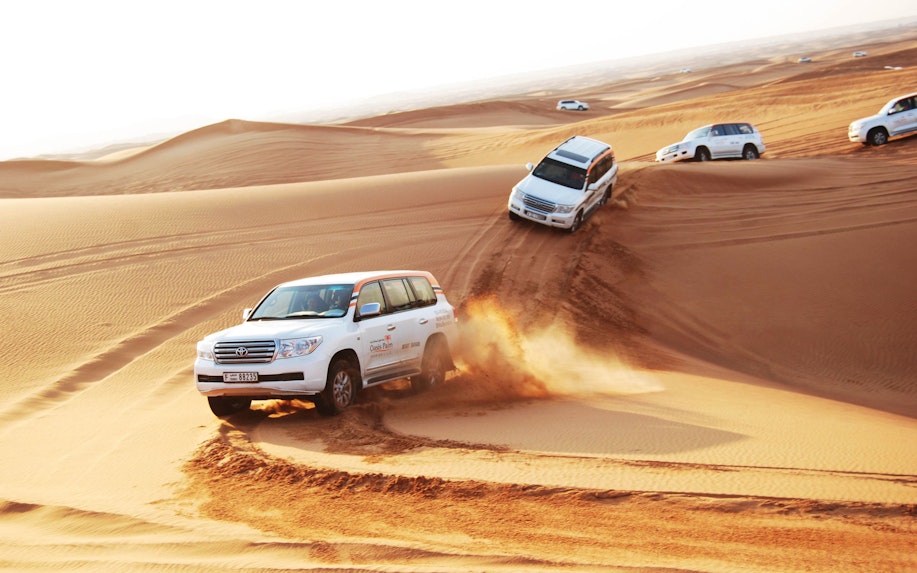 Is Dune-bashing Safe?
Yes! Dune-bashing in Dubai is completely safe. The 4x4 SUV you travel in is equipped with vetted safety gear to protect you. Moreover, the pressure of the SUV's tires is constantly adjusted to accommodate seamless travel over the smooth surface of the sand dunes. Since the SUV is maneuvered by a professional driver, you will be comfortably strapped into the passenger seat.
What to Expect while Dune-bashing in Dubai?
Your dune-bashing Dubai experience will begin at your hotel. You will be picked up either in the morning or evening, depending on the desert safari tour you have opted for. From your hotel, you will be driven in an air-conditioned vehicle to the desert, where your experience will commence. 
Once you reach the desert, you'll be led to the 4x4 vehicle. After they're done adjusting the tires' pressure, you can get in; don't forget to securely fasten your seat belt. A typical dune-bashing experience would take about 30 minutes. Prepare for a bumpy ride; you will bounce, slip and slide off the seat during the activity!
After this activity, you will then be taken to the campsite where you can participate in other experiences such as camel riding, henna painting and traditional belly dances. 
Dune-bashing in Dubai FAQs
Q. How to book a dune-bashing in Dubai experience?
A. A dune-bashing experience is generally part of desert safari tour in Dubai. By booking a tour, you can participate in the dune-bashing experience. 

Q. Is dune-bashing in Dubai safe?
A. Yes. the 4x4 SUV is equipped with safety gear for your protection, making the activity safe.

Q. What should I wear for dune-bashing in Dubai?
A. Wear loose, comfortable clothing for dune-bashing in Dubai. It is also recommended that you wear open-toe shoes since sand can easily settle into your shoes and socks.

Q. Is there an age limit for dune-bashing in Dubai?
A. Yes. Children under the age of 4 years will not be permitted to go dune-bashing in Dubai.  

Q. What should I eat before dune-bashing in Dubai?
A. Since this sport involves several rapid movements, bumps and jerks, it is recommended that you eat a light, non-oily meal before.
Dubai Desert Safari Tours