Go Quad Biking in Dubai
Dubai caters to every tourist type; if you're looking for a relaxing time, head for a magical dhow cruise across the marina or get your dose of adrenaline at one of the many fantastic water parks in the city. However, if you're looking to explore a different side of the city, a desert safari should be at the top of your list. While you can try exciting activities like dune-bashing and sandboarding, one you should not miss out on is quad biking in Dubai. 
Quad Biking in Dubai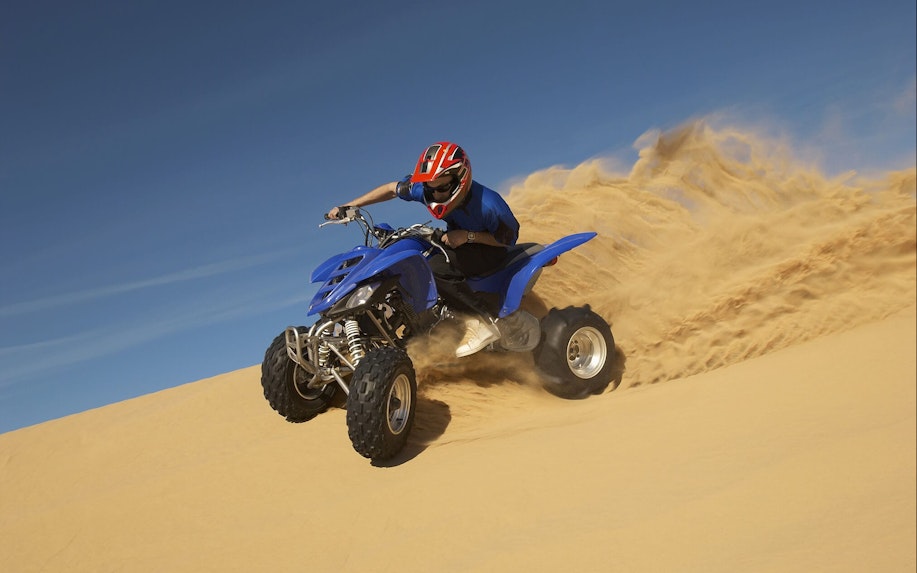 What is Quad Biking?
A quad bike, also known as an All-Terrain Vehicle, is an off-road vehicle that can be used on almost all terrains. It is designed with either three or four low-pressure tires and a handlebar so that the driver can maneuver it across different landscapes. A quad biking activity involves driving the vehicle at different speeds on rough terrains for sport and entertainment. You can try the sport by renting a quad bike or going for a desert safari that includes quad biking as part of an itinerary of fun activities.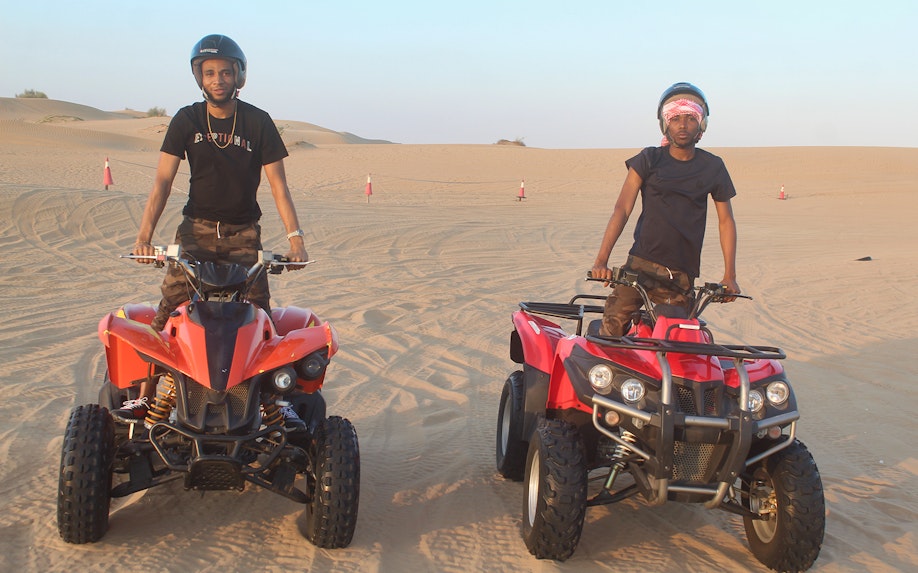 Is Quad Biking Safe?
Yes, if you are careful and follow safety guidelines, quad biking is a safe sport. The tires are specially-designed with low pressure and customized grips to easily maneuver over terrains like mountains or sand dunes. Moreover, the brakes in handlebars are ergonomically-designed in case of sudden movements. 
What to Expect while Quad Biking in Dubai?
If you've selected quad biking in Dubai as part of your desert safari tour, you're in for a treat. A typical day would begin at your hotel: you would be picked up at your hotel in an air-conditioned vehicle and taken to the campsite which would be located on the outskirts of the city. 
Once you arrive, you would begin all the activities that are included in your desert safari package. This includes dune-bashing, camel riding, sandboarding, etc. Before quad biking, you would be given a brief set of instructions on how to control the vehicle and other general guidelines that would help make the most of your activity. You would get onto a quad bike; zoom up and down the sand dunes, feel the cool breeze on you and have a thrilling adventure. 
After quad biking, you can indulge in a delicious buffet breakfast or dinner, depending on the ticket you've chosen. At the end of your desert safari, you will be dropped back to your hotel.  
Quad Biking in Dubai FAQs
Q. How can I go quad biking in Dubai?
A. You can rent quad bikes in Dubai; or you can opt for a desert safari tour that allows you to try quad biking in Dubai. 

Q. Is quad biking in Dubai included in my desert safari?
A. Not all desert safaris allow you to go quad biking in Dubai. You would have to specifically include quad biking as an activity in your ticket to try the sport.

Q. Who can go quad biking in Dubai?
A. Children below the age of 3 are not permitted; those between ages 3-14 can be accompanied by an adult, while those above 14 can try quad biking. Pregnant woman are also not permitted to try quad biking in Dubai.

Q. Is quad biking safe?
A. Yes. By following the guidelines and remaining safe, quad biking in Dubai is safe. 

Q. What should I wear before I go quad biking in Dubai?
A. It is recommended you wear, loose and comfortable clothing for quad biking in Dubai, with closed-toe shoes. Please carry sunscreen in case you plan to try the activity during the day.
Dubai Desert Safari Tours