Select Your Dubai Desert Safari Tours
Dubai Desert Safari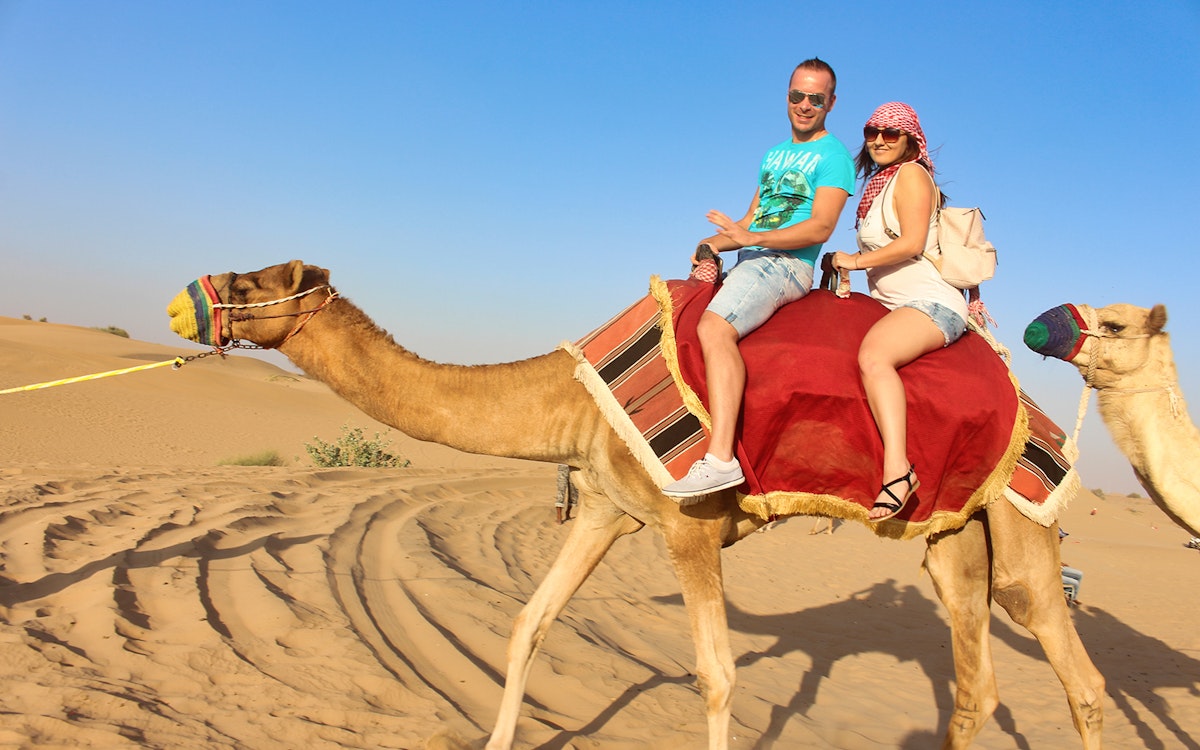 Red Dune Desert Safari with BBQ Dinner & Live Entertainment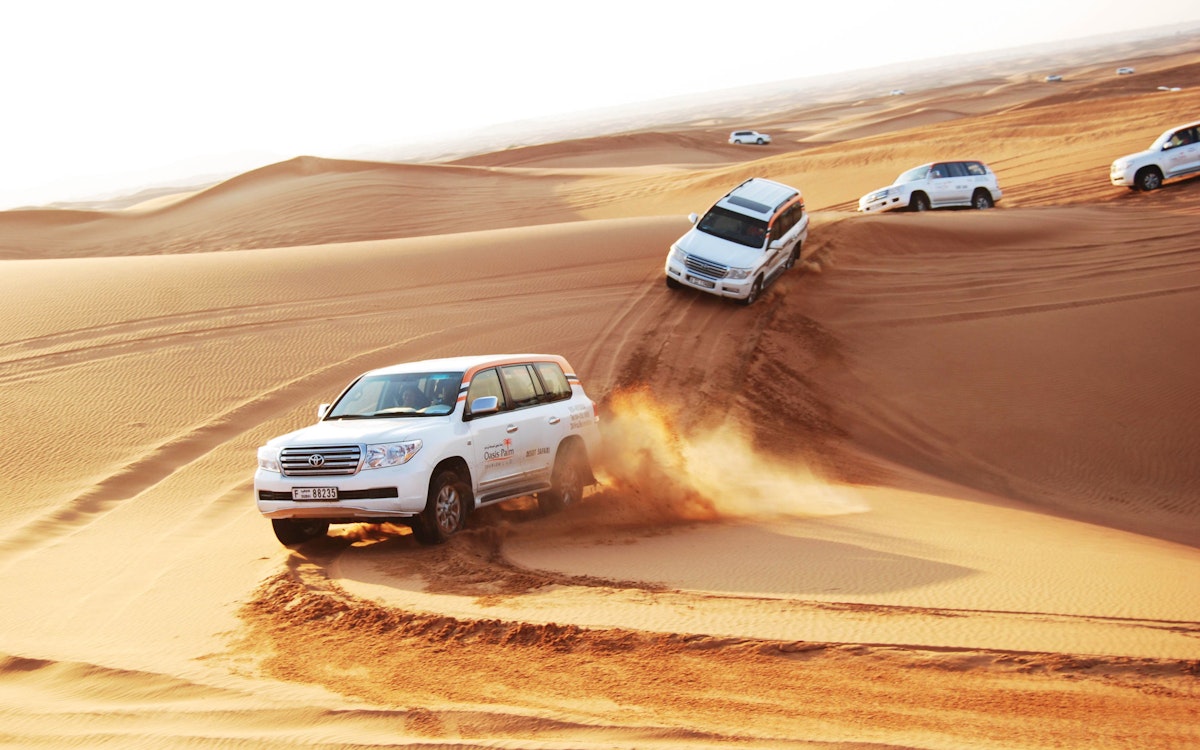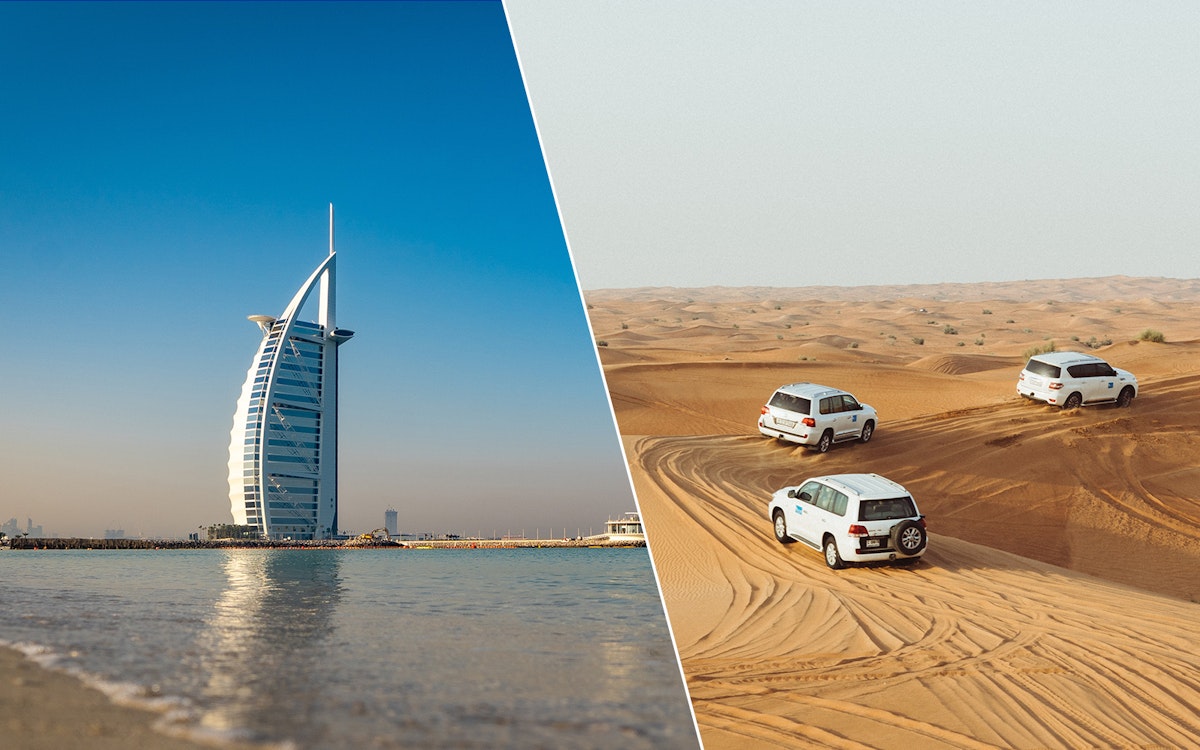 2 Day Combo: Desert Safari + Dubai City Tour + Dhow Dinner Cruise
Explore Dubai: Burj Khalifa, Aquarium & Desert Safari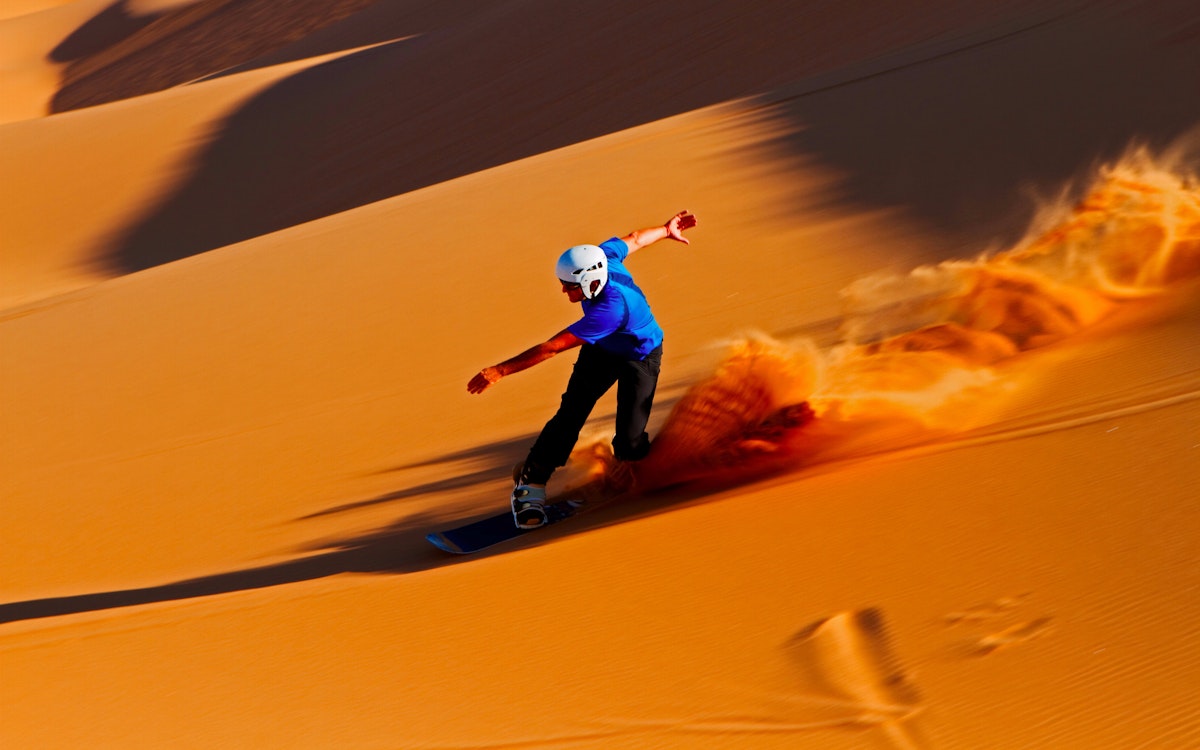 Burj Khalifa At The Top & Desert Safari Combo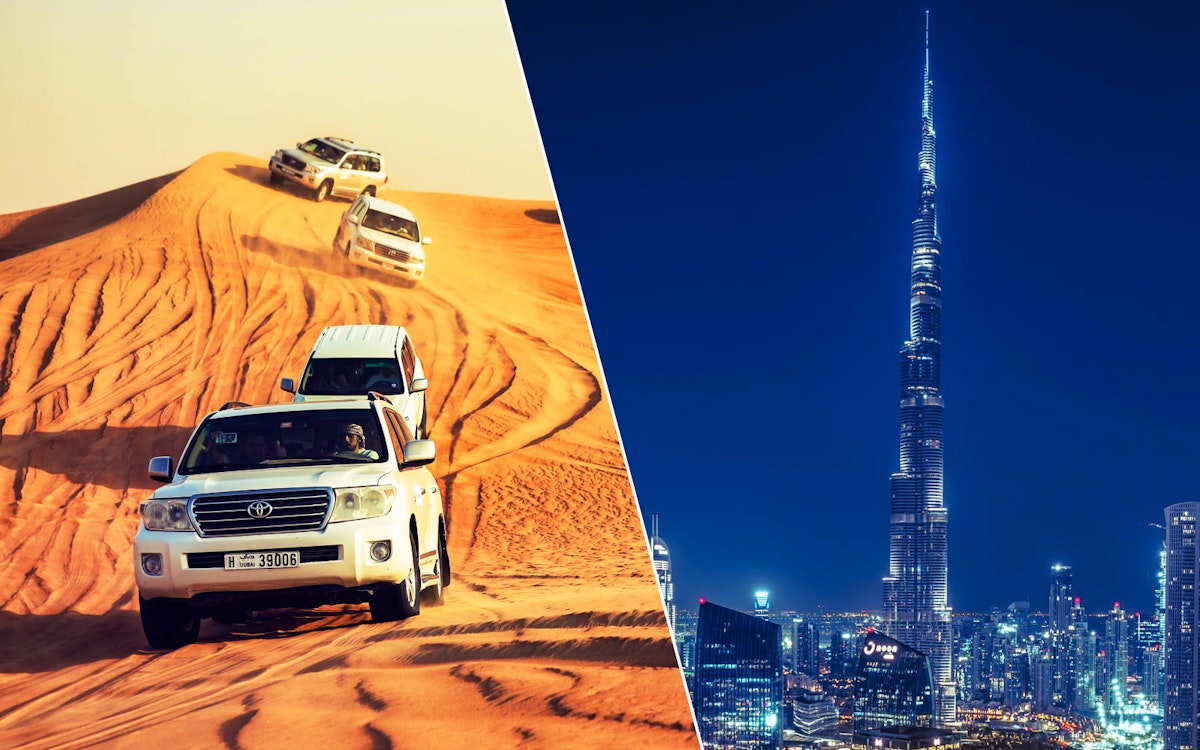 Desert Safari and Burj Khalifa: At the Top (Level 124 & 125)
Dubai Desert Safari
Picture this: a mesmerizing sunset, replete with stunning shades of yellows and reds and a hint of pink streaking through. The sun's rays fall softly on an endless expanse of golden sands and you're left in awe at the natural beauty of the desert in front of you. Contrary to popular opinion that a desert pales in front of the mountains or the sea, visiting one is a unique experience in itself. 
Dubai -- rightfully known as the City of Gold -- strives to give you just this. While most travelers head straight for popular experiences like visiting the Burj Khalifa or Palm Jumeirah, make sure you don't miss out on what will surely be the highlight if your trip: a Dubai desert safari.
Thrill and adventure await you on a desert safari in Dubai; go dune bashing and sandboarding, smoke some delicious sheesha, go for a camel ride and enjoy a lovely traditional dance with your family and friends. Plenty of excitement and memories await on a desert safari in Dubai. 
All Your Dubai Desert Safari Options
Compare the Best Dubai Desert Safaris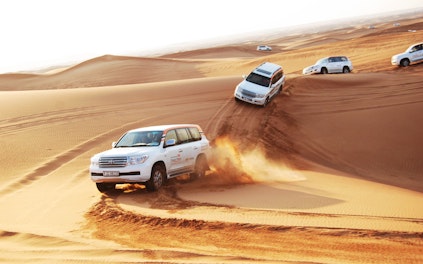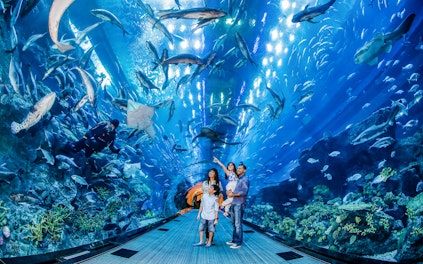 Explore Dubai: Burj Khalifa, Aquarium & Desert Safari
Inclusions
Dubai Aquarium, Burj Khalifa At The Top, evening desert safari
Desert Safari Activities
Dune-bashing, buffet breakfast
Desert Safari Activities
Dune-bashing, henna painting, unlimited shisha, camel rides, tanoura dance, fire shows, BBQ dinner buffet
Add on
Sandboarding, quad biking, camel ride
Cancellation Policy
Cancel up to 12 hours in advance for a full refund
Cancellation Policy
Cancel up to 48 hours in advance for a full refund
Choosing the Right Dubai Desert Safari
1. Time of Day
Based on your plan of experiences to try in Dubai, you can opt for a desert safari tour that best suits your itinerary. You can choose from a morning desert safari or an evening desert safari, allowing you enough time to complete visiting other attractions in Dubai that have fixed timings. 
2. Activities
There's a variety of activities that you can try while on a Dubai desert safari; sandboarding, dune-bashing, quad biking, camel riding, etc. You have the freedom to choose activities based on your interests on a Dubai safari tour; whether you're looking for a relaxing evening, or an adventure-filled day.
3. Budget
Each Dubai desert safari tour includes different activities to choose from. Based on your budget, you can choose to opt for the default inclusions or add-on any additional activities you find interesting. Some tours include free meals and dune-bashing activity, while others additional activities like belly dancing and sandboarding.
4. Combo Offers
If you would like to cover all the major attractions and experiences in Dubai, opting for a combo tour is your best bet. Not only does this include a Dubai desert safari experience, but it also lets you visit prime attractions at the top of things to do in Dubai list, like Palm Jumeirah and Burj Khalifa, or go for a Dhow cruise. 
The Best Dubai Desert Safari Activities
Plan Your Visit
Location
Return Transfers
Know Before You Go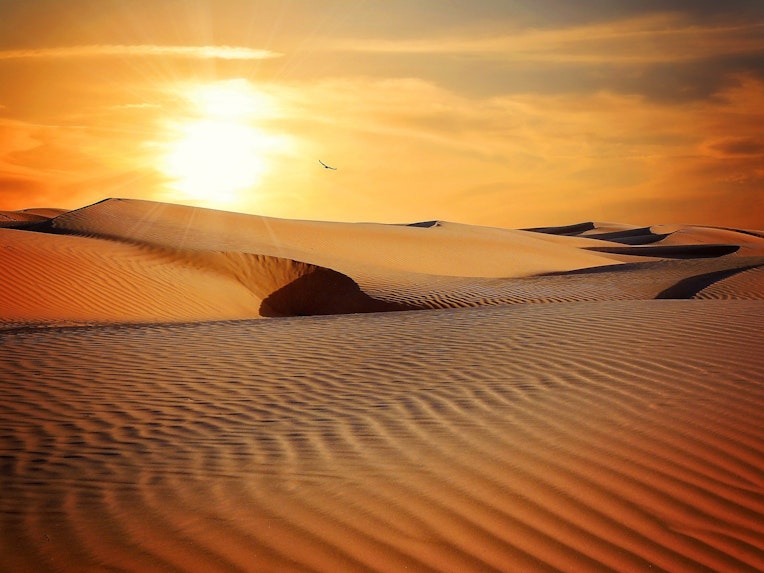 Dubai Desert Safari Locations
The most popular Dubai desert safari locations include Al Aweer Desert, Hatta Mountains and the Dubai Desert Convention Reserve amongst others. Most desert safari tours offer pick-up and drop-off at your hotel, so you need not worry about planning your commute. Each location provides a different experience to you: at some you might get to experience traditional Bedouin culture, while at others you might get to witness interesting flora and fauna common to desert landscapes.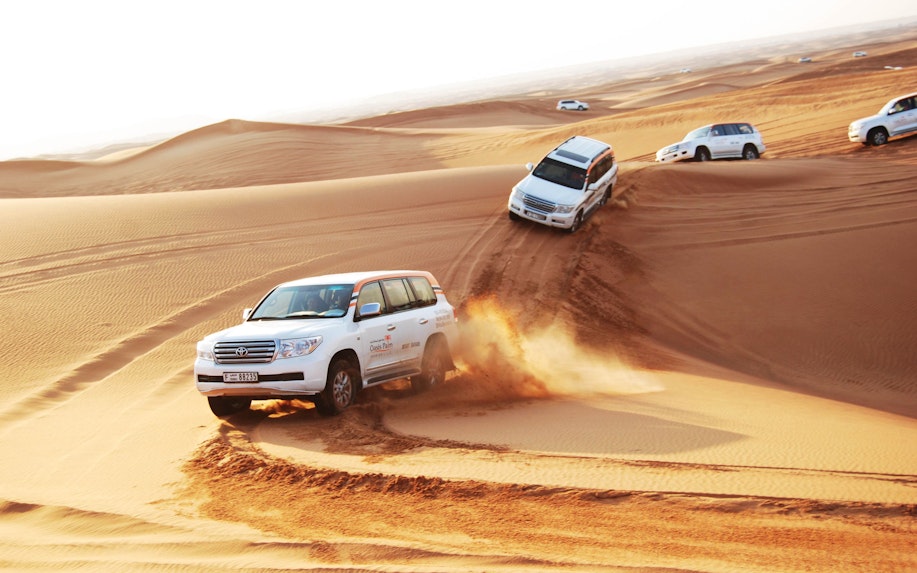 Return transfers
Since most desert safari locations are usually on the outskirts of Dubai, your tickets allow you to opt for return transfers. You will be picked up from your hotel in an air-conditioned vehicle at a certain time, and once the entire desert safari experience has been completed, you will be dropped right back to your hotel. This helps you avoid having to plan the commute between your hotel and the desert safari location in Dubai.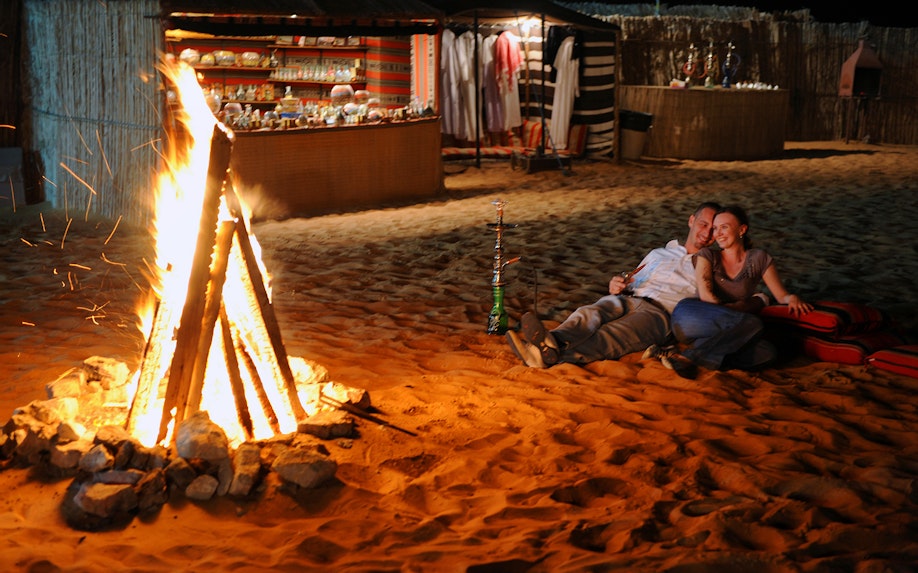 Plan Your Desert Safari
While planning your experience, there are a few things to keep in mind:
Wear loose, athletic clothing so that you're at your most comfortable. It is also recommended that you wear open-toe shoes to avoid sand getting into your feet.
Children under the age of 2, pregnant women and those above the age 70 are not permitted on a desert safari tour
Have a light meal before desert safari activities like dune bashing or quad biking
There's plenty more to know before you go for a desert safari!
Know more about planning the perfect desert safari experience in Dubai. Get information about convenient pick-up points, desert locations and timings. Know about different things to do in Dubai, like visiting Burj Khalifa or opting for a serene Dhow cruise.
Know more about experiences and attractions in the city. Get information about the best things to do in Dubai, including going for a dhow cruise, going up the Dubai Frame, visiting Burj Khalifa and more.
Dubai Desert Safari FAQs
Q. What is included in a Dubai desert safari tour?
A. Inclusions in each Dubai desert safari might be different. Based on your ticket, you could get pick-up and drop-off at your hotel, dune-bashing, sandboarding, quad biking, camel rides, belly dancing, buffet lunch or dinner and more.

Q. How do I get to my Dubai desert safari location?
A. You need not plan the commute between your hotel and the desert location. Your Dubai desert safari tour by default includes return transfers.

Q. What are the different types of desert safaris in Dubai?
A. You can opt for a morning, evening or adventure desert safari in Dubai. You can also opt for a combo tour, that allows you to visit popular attractions like the Burj Khalifa and Palm Jumeirah. 

Q. What does a Dubai desert safari combo tour include?
A. Your combo includes a desert safari experience, along with the option of trying out experiences like a visit to the Burj Khalifa or Dubai Aquarium, entry into theme parks or a Dhow cruise.

Q. What is the cancelation policy for a Dubai desert safari?
A. The cancelation policy differs for each Dubai desert safari ticket. Most allow you to cancel your ticket up to 24 hours or 48 hours in advance. Please check the cancelation policy before you book your ticket.

Q. What should I wear on a Dubai desert safari?
A. You can wear loose, comfortable clothing with open-toe shoes on a desert safari in Dubai.