Select Your Evening Desert Safari Tickets
Buy Evening Desert Safari Tours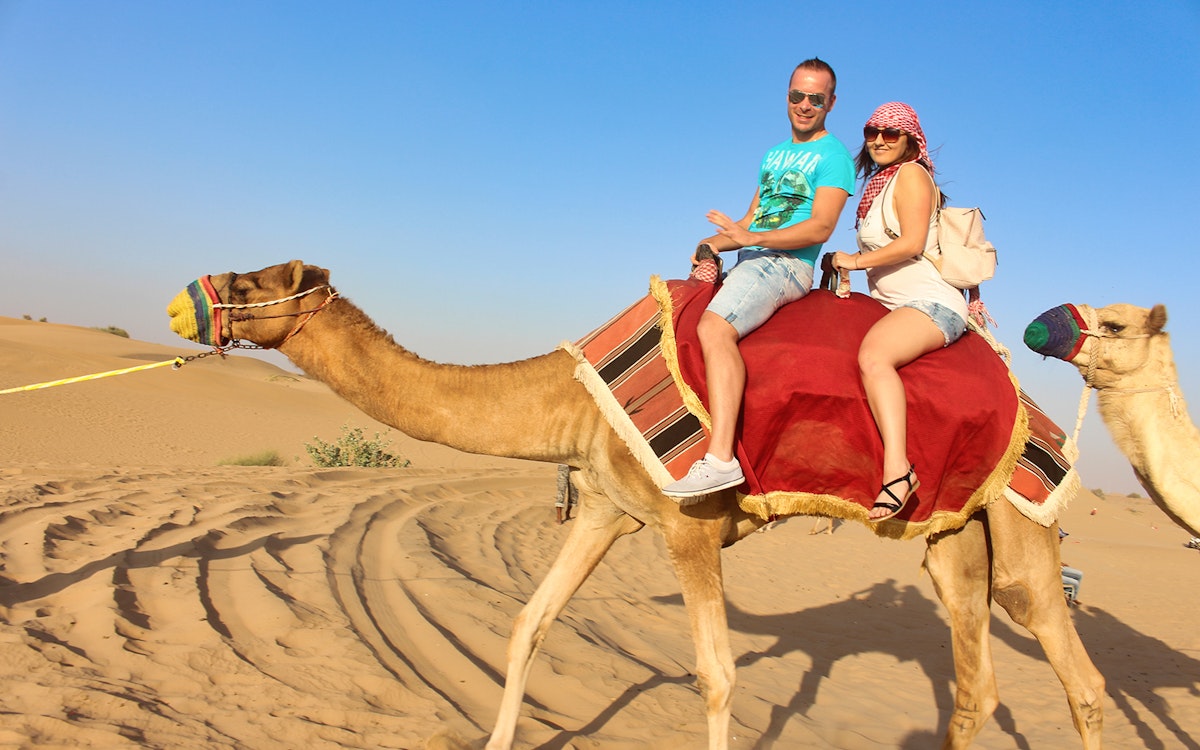 Red Dune Desert Safari with BBQ Dinner & Live Entertainment
Red Dune Desert Safari with BBQ Dinner & Live Entertainment
Mobile Tickets
Hotel Pick-up
Embark on a classic desert adventure with this experience. Explore a traditional Bedouin camp, try a plethora of exciting activities in the Arabian Desert. Your tour includes return transfers and mobile tickets for convenience.
What You Get
On this stunning desert safari, you will travel in a 4x4 vehicle to a traditional Bedouin camp where the thrills of bashing the dunes and sand boarding await you.
Experience a wide variety of desert activities such as camel riding, shisha smoking, and henna painting.
Enjoy the night further as dancers perform belly dancing, tanoura dance and fire show.
Relax under the stars with a delicious buffet meal paired with unlimited soft drinks, water, tea and coffee.
Desert Safari Activities
Dune-bashing, sandboarding, camel ride, belly dance, tanoura show, unlimited shisha, BBQ buffet dinner
Cancellation Policy
Cancel up to 24 hours in advance for a full refund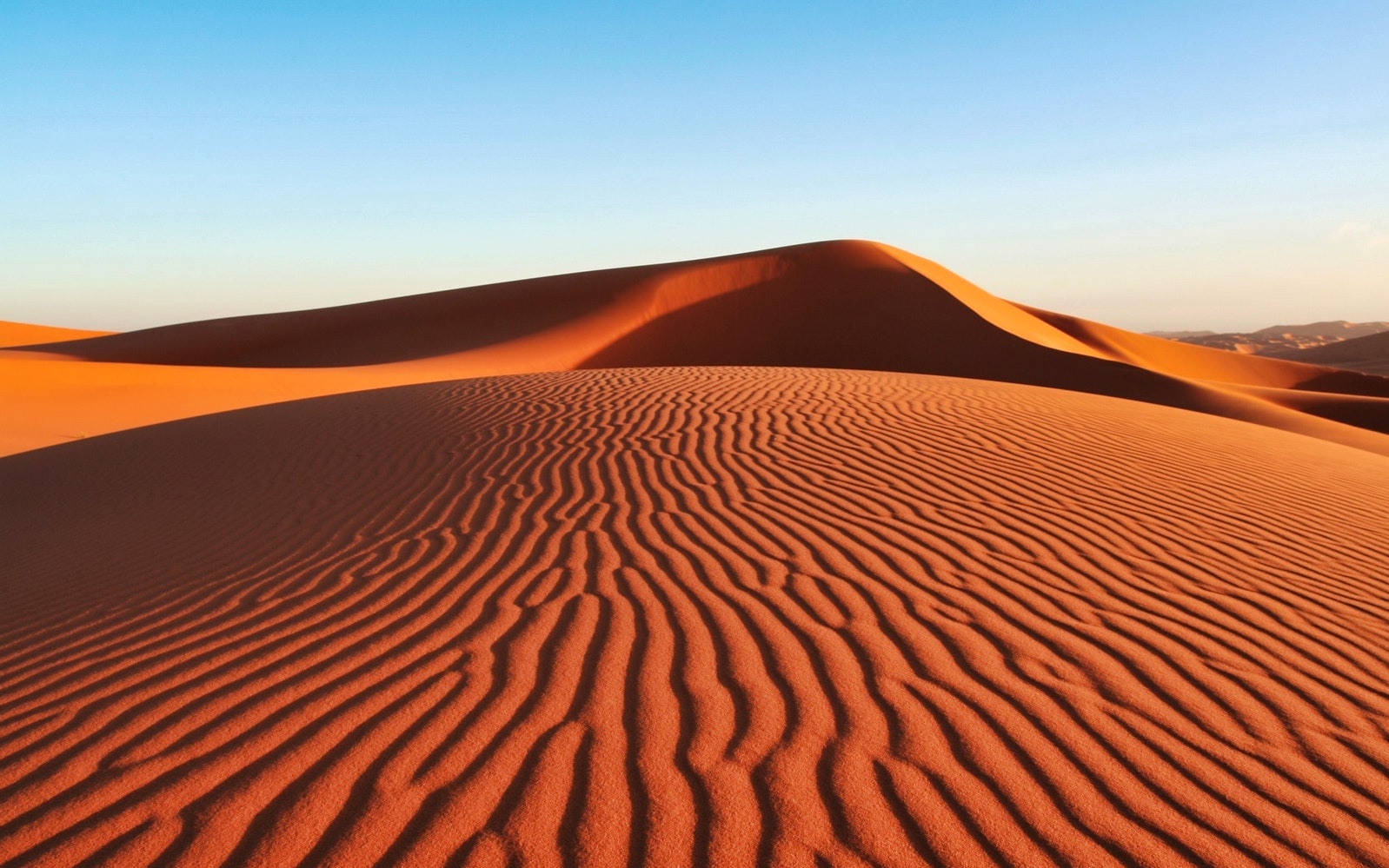 Evening Desert Safaris
Dubai is a tourist haven with plenty of activities and experiences catering to a diverse set of visitors. Whether you're looking to try adventure sports like skydiving, are in the mood for a relaxing cruise around the Marina, or want to stargaze from the top of the Burj Khalifa, Dubai fulfills each desire, and how! If you're looking for a unique experience outside the city, your best bet would be an evening desert safari under a splendid sunset!
Why Go for an Evening Desert Safari in Dubai?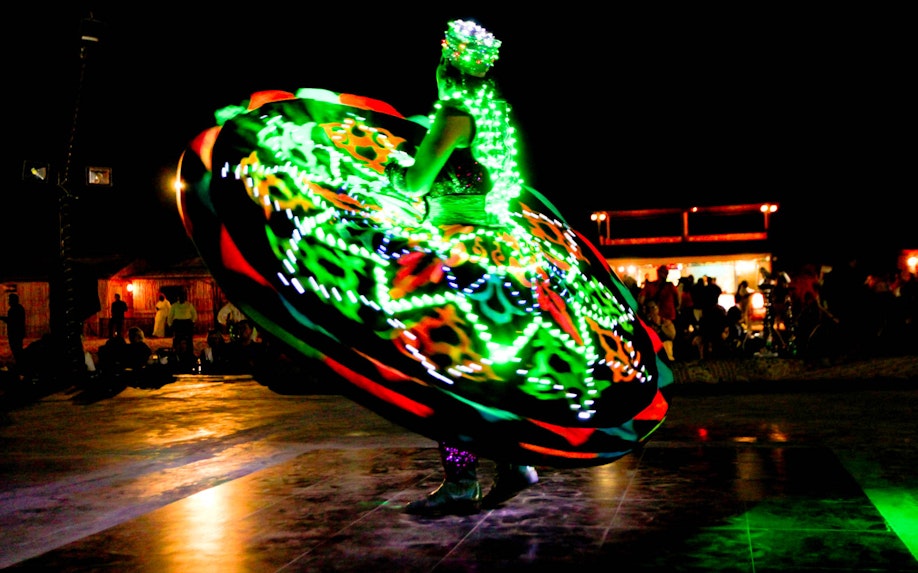 Evenings in Dubai are quite pleasant; when the sun is about to set, you can relax in the cool desert breeze. Prepare for an experience like no other! Not only do you get the opportunity to take photos with a lovely sunset in the background, but you can participate in a variety of exciting activities like sandboarding and dune-bashing, watch a fantastic traditional dance and indulge in a scrumptious buffet meal.
Evening Desert Safari in Dubai Highlights
Both morning and evening desert safaris in Dubai are spectacular in their own ways. From exciting activities to scrumptious meals in line, you're sure to walk away with memories for a lifetime. Here, we highlight the benefits of opting for an evening desert safari.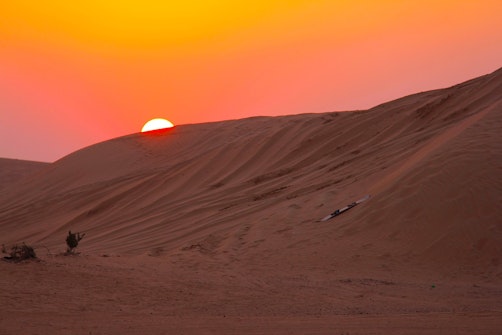 Weather
While daytime in desert regions brings in plenty of sunlight and humidity, evenings are quite the opposite. You'll experience cool, pleasant winds blowing past you through the evening, which will further enhance your experience since you will not have to worry about the heat. The best part of opting for an evening desert safari is your chance to witness a stunning golden sunset, perfect for a memorable photo-op.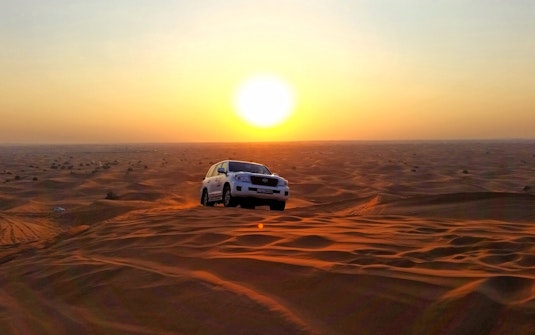 Experiences
An evening desert safari is perfect for those willing to try adventurous activities and experiences. On an evening safari, feel your pulse race and adrenaline rush through your body as you try exciting activities like dune-bashing, sandboarding and quad biking. Other fun experiences part of an evening safari are henna painting, fire and lights show, belly dance performances and more!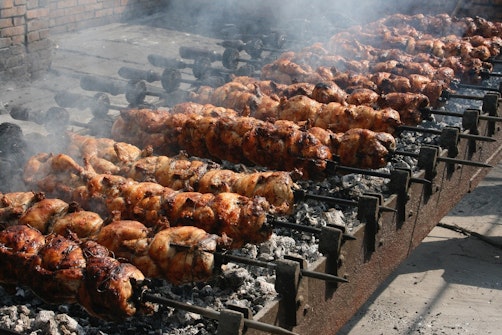 Dining
Your evening desert safari ends with a delightful BBQ buffet meal. Indulge in a wide spread of local and continental dishes that cater to both vegetarians and non-vegetarians. Your dinner meal allows you to have multiple servings, perfect after you've worked up an appetite post the thrilling activities. Dig into fresh salads and tenderly grilled meat, all the while smoking some delicious sheesha.
What to Expect on an Evening Desert Safari in Dubai?
Your experience will begin at your hotel, depending on your booking. You can also opt to be picked up from one of the many designated pick-up points in the city. You will be picked up in an air-conditioned vehicle and taken to the campsite where your evening desert safari will begin. 
On reaching, you can participate in different activities included in your ticket. The most fun activity, dune-bashing, is sure to be the highlight of your experience; you will be seated in a 4x4 SUV and will slide, bounce and race across several sand dunes. Another exciting activity is sandboarding, where you can surf down sand dunes on a customized board that is fastened to your feet, and quad biking, where you ride on an ATV (meant for uneven terrains) on the dunes.
As part of your experience, several entertainment options are in store. A captivating belly dance and tanoura performance will be put up for you, along with activities like camel riding, henna painting and fire shows.
Your evening ends with a delicious buffet dinner, comprising a variety of international and local vegetarian and non-vegetarian dishes. You will then be dropped back to your hotel.
Tips for Your Evening Desert Safari in Dubai
1. Carry a stole or a light jacket since evenings in the desert tend to get a little chilly
2. We recommend carrying both open-toe and closed-toe shoes for different activities
3. While a buffet dinner will be provided towards the end of your day, you can have a light, healthy snack in the beginning to keep your energy levels up
4. Wear loose, comfortable clothing like trousers and cotton t-shirts for your desert safari
5. Pregnant women, children and those with health issues should avoid activities like dune-bashing and quad biking
6. Listen closely to instructions given out before each activity
7. Secure a good seat in front of the dance floor to get a good view of the live show