Experience a Variety of Things to Do in Dubai
There's an abundance of experiences in Dubai! Every part of the city can be explored and caters to different traveler interests. Whether you're looking to blow off some steam, shop till you drop, befriend some lovely animals, or indulge in local delicacies, Dubai fulfills each dream, and how! 
Things to Do in Dubai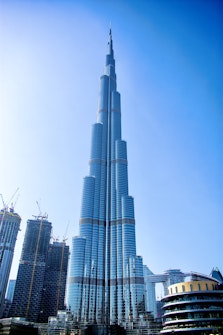 Burj Khalifa
The Burj Khalifa, standing tall at 820 meters, towers over the city of Dubai. A skyscraper redefining 21st Century architecture, the Burj Khalifa should definitely be a part of your itinerary of things to do in Dubai. Visitors have access to At The Top (Levels 124 & 125) and At The Top SKY (Level 148) floors; whether you're a local visitor or a traveler from abroad, nothing will prepare you for the captivating sight in store from the observations decks -- a panoramic view of Dubai's impressive, glittering skyline. For the best experience, head to the top during late-afternoon and feast your eyes on a mesmerizing sunset.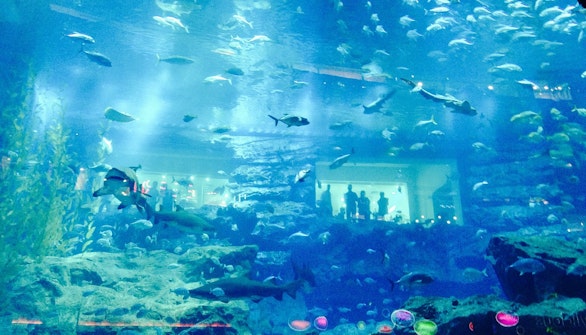 Dubai Aquarium & Underwater Zoo
Visit the Dubai Aquarium & Underwater Zoo at the Dubai Mall and prepare for an experience like nothing before. It is considered to be one of the largest aquariums in the world. You'll be greeted with over 140, brightly-colored underwater animals from feisty piranhas to stingrays and crocodiles. Try and spot all the shoals of little fish that swim under large sharks! You can opt to see the Dubai Aquarium & Underwater Zoo on the basic level, learn interesting trivia from the interactive systems, or try once-in-a-lifetime experiences like scuba-diving or feeding the sharks! Visiting the Dubai Aquarium is sure to be a fun-filled, educational experience for everyone in the family.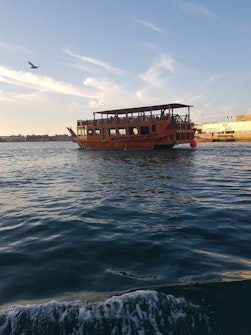 Dhow Cruise
Owing to its immense popularity, Dubai is often filled with a sea of tourists. If you're looking to briefly escape from the crowds, head to the Dubai Creek or Dubai Marina for a lovely Dhow cruise. Dhows are traditional wooden boats earlier used by fishing communities in the Arab world. Today, a Dhow cruise is one of the most popular experiences in the city; set sail into the calm blue waters and soak in the city's twinkling skyline. While on a Dhow cruise, indulge in delicious meals with international and local dishes and admire landmarks like the Palm Jumeirah and Burj al Arab amongst others.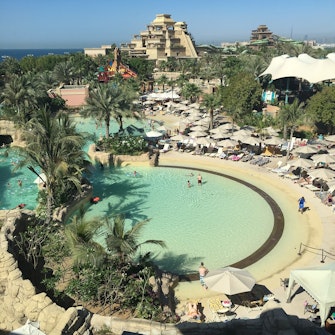 Theme Parks
Sun, splash, thrill and an endless amount of fun -- this is a nutshell of what to expect while visiting one of Dubai's many theme parks. They are home to exciting attractions, and indoor and outdoor rides, including surprise visits from famous pop culture characters! Some of the best theme parks in the city include Motiongate Dubai, Aquaventure Waterpark, IMG World of Adventure, Ski Dubai and Wild Wadi. Zoom down large slides, meet Shrek and the Smurfs along with the characters from Madagascar, swim at length in a wave pool, or suit up and ski down some snow-capped slopes.
Dubai Frame
At first thought, the Dubai Frame might seem just what it sounds like: an opportunity to take photos while framing all the skyscrapers in its vicinity. However, the Dubai Frame is so much more! Measuring a whopping 150 meters in height, this attraction is designed beautifully, embossed with gold paneling on glass. You can head up via the glass elevator and after stepping onto the floor, go straight to the massive windows on either side from where you get a stunning view of Dubai's skyline! Soak in the view, take some photos, learn about the city's history and more at the Dubai Frame.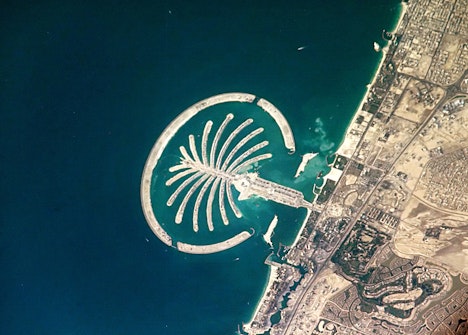 Palm Jumeirah
Dubai has a reputation that precedes it for going the extra mile; the Palm Jumeirah exceeds expectations and how! It is an entirely man-made island, shaped like a Palm Tree, covering an impressive stretch of almost 6 sq. km. It is both a residential and commercial space, complete with shopping stores, beaches, apartments and villas available for rent and purchase, luxury hotels and more. It is connected to Dubai via two bridges. Visitors can indulge in delectable food at one of many classy restaurants and bars, head to the uber-grand Atlantis -- also home to Aquaventure -- and try sports like canoeing and skydiving.
More Reads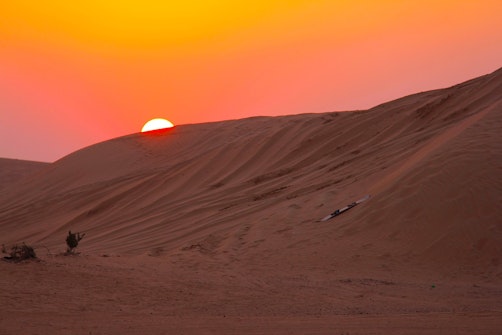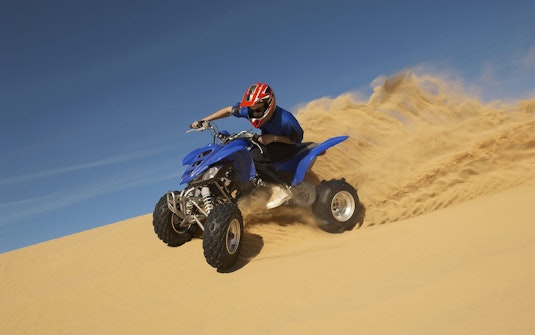 Dubai Desert Safari Tours