Locations Of Dubai Desert Safari
Contents
Dubai is a city located in the United Arab Emirates and is well-known for its luxurious resorts and hotels. Home to some of the world's most beautiful deserts, Dubai offers fun activities and experiences like desert safaris, which are perfect for those who want to experience the adventurous side of the city.
Tourists can choose from different types of Dubai Desert Safari tours. Some of these tours include a visit to a camel farm, while others offer a chance to watch the sun set over the desert. Some safaris allow tourists to ride on a quad bike or go sandboarding. No matter what type of safari tour you choose, you can be sure that you will have an amazing time as you get an opportunity to participate in some fun and exciting activities.
Best Dubai Desert Safari Locations
Located mostly on the city's outskirts, the golden sands of Dubai offer a unique adventure of Desert Safari. With your tickets including return transfers, commuting to these sites is the last thing you should think about. Here's a list of the most popular places in Dubai known for their Desert Safari experiences.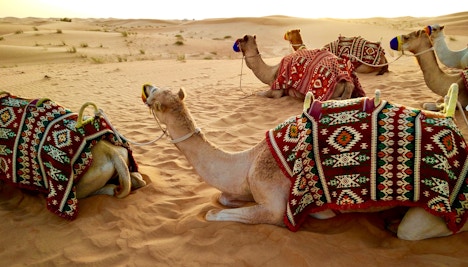 Dubai Desert Conservation Reserve
Forming about 5% of the emirate of Dubai, Dubai Desert Conservation Reserve is UAE's first national park, acting as a protected environment for Dubai's desert wildernesses. It is famous for its conservational projects, protecting the endangered flora and fauna of the desert. It operates to conserve and maintain the desert ecosystem and attracts tourists with various activities that it has to offer.  Dubai Desert Conservation Reserve is famous for its activities like camel treks, falconry, horse riding, archery, and other Desert Safari activities, including sandboarding and dune driving.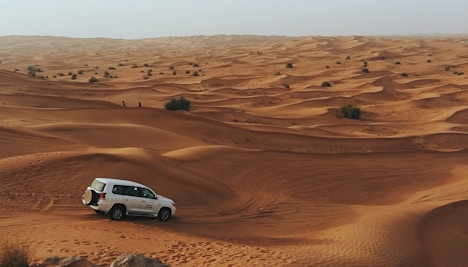 Al Awir Desert
Al Awir Desert is located about 35 kilometers from Dubai's city center. It is known for being the hub of camel breeding and agriculture. Al Awir Desert is a prime location for dune-bashing and quad biking. It attracts lots of tourists to experience the unique range of activities it offers including, desert safari and adventure sports. It is one of the most popular locations for Desert Safari in Dubai and it experiences lots of footfall during the weekends for such activities.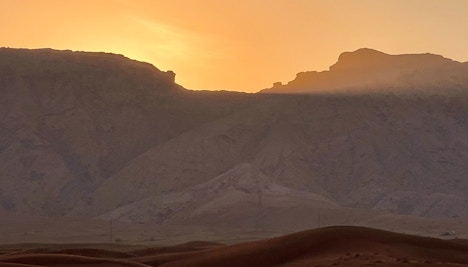 Bidayer
The Bidayer is a sand dune that stretches across the desert and is perfect for a day trip. It's also known as the 'Big Red' because of its terracotta red color, which makes it easy to spot against the changing sand colors on an otherwise yellow-colored landscape during the evening. The Ondayer Sand Dune is an ideal spot if you're looking to enjoy quad bike riding or dune bashing. On the weekdays, the area is swarmed by people who enjoy activities like adventure sports, desert safari, or want to admire nature's beauty as the sand changes colors as the day passes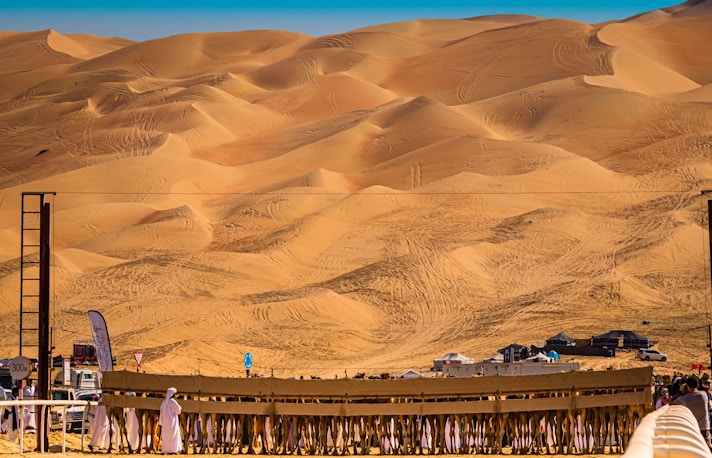 Liwa Desert
Located near the Rub Al Khali, the Liwa Desert, also known as 'The Empty Quarter,' is a vast desert area known for its high dunes and extreme weather conditions. The highest sand dunes in all of UAE can be found here, with plenty to do and explore nearby. The area is known for its rich history, and it hosts events such as cultural festivals, like the week-long Liwa festival. Tourists can take part in challenging races or just relax at one hundred fifty different desert villages throughout this wide-open space where culture thrives.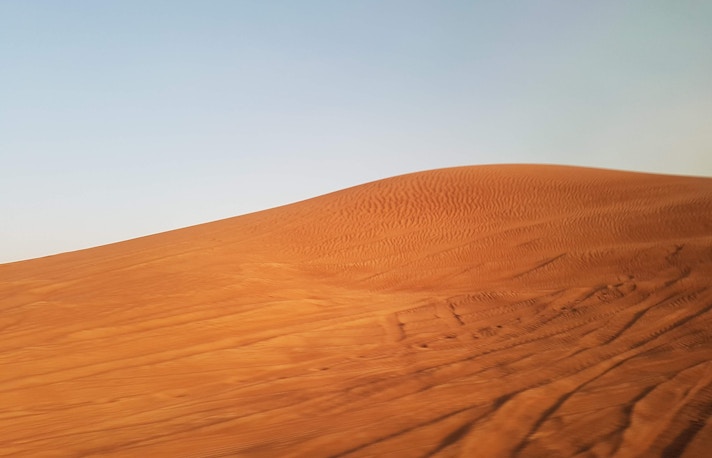 Al Lahbab Desert
Located some 50 km outside of Dubai city, this is an ideal choice to go dune bashing or sandboarding and enjoy dinner with a BBQ. The beautiful red desert will make for an experience you'll never forget as it provides unparalleled views by any other place in UAE! You can also take part in their safari programs, where they drive through rural villages while giving information about cultural events happening nearby at each location. These activities have become more popular choices among travelers looking for adventure and opportunities to explore the local culture.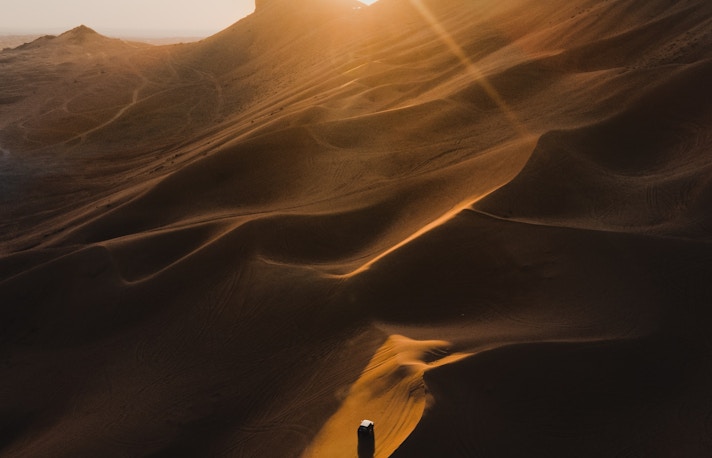 Jebel Maleihah
If you are interested in finding ancient marine fossils, this is a great place to visit. It is popularly known as the 'Fossil Rock' due to its abundant marine fossils that can truly be found here in abundance. The rocks along the road between Sharjah and Kalba have been preserved by being underwater during the previous geologic time periods when the UAE used to be part of Tethys Ocean Floor. Close by, there's another fascinating structure known as 'the camel rock'. It looks exactly like how we imagine camels sitting down with their humps sticking up into our world - only these camel impressions were made over 500 million years ago during prehistory era dinosaurs heyday here on earth. It is a popular destination for tourists and photographers to take pictures alongside these breathtaking sights while learning all about their history from locals living nearby or enjoying Dubai Desert Safari.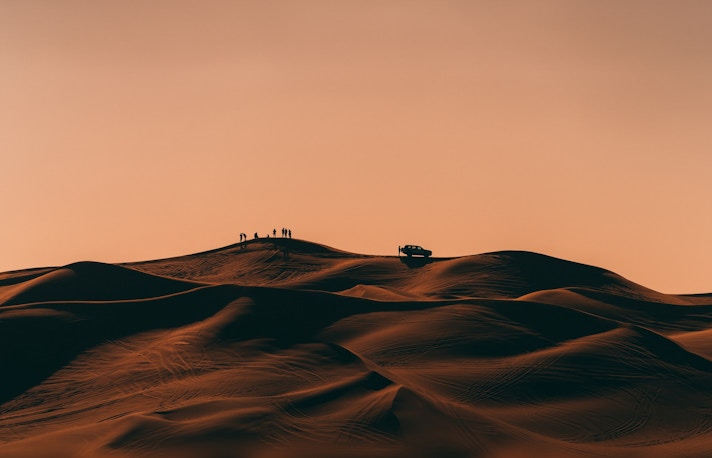 Al Faya Desert
The Al Faya Desert is a must-see for any traveler looking to experience the raw beauty and elegance that only nature can offer. Al Faya Desert is known as the Big Fall because of its bigger dunes. Located 50 minutes away from Dubai, this remote destination offers an ideal spot where one may set up camp under stars! The best time to visit this area would be during sunset, when you can enjoy an impressive landscape while riding on your camel or SUV through one big sandstorm after another! For those who prefer more adventure than simply lounging around or taking pictures all day long, the big dunes here will provide you ample opportunity to get down on four wheels while enjoying some fun turns at high speeds or enjoy a fantastic desert safari experience.
How To Buy Dubai Desert Safari Tickets?
The best way to buy Dubai Desert Safari tickets is to book your tickets online. Purchasing your tickets online helps you get amazing deals and discounts and also allows you to book your slots as per your convenience.
Frequently Asked Questions About Dubai Desert Safari Locations
Q. Where is the best place to do a Dubai Desert Safari?
A. There are many several Desert Safari locations in Dubai. The most popular locations are Al Awir Desert, Liwa Desert, Al Lahbab Desert, Al Faya Desert, Dubai Desert Conservation Reserve, Jebel Maleihah, and Bidayer.
Q. What should I expect on a Dubai Desert Safari?
A. Your experience will depend on the Dubai Safari location and safari tickets you have purchased. A typical Dubai Desert Safari will include a drive through the desert, a stop at a camel farm, a stop at a traditional Bedouin village, and time for sandboarding and dune bashing. For more information, make sure to check your tickets before purchasing.
Q. Can I do a Dubai Desert Safari alone?
A. Yes, but it is much more difficult to organize and there is a greater chance of getting lost in the desert. If you are confident in your ability to navigate the desert on your own, then go for it! Just be sure to bring plenty of water and snacks, and be aware of the dangers of desert wildlife.
Q. What should I wear on a Dubai Desert Safari?
A. Dress comfortably and modestly. You will likely be doing some outdoor activities, so dress appropriately for the weather.
Q. How much does a Dubai Desert Safari cost?
A. The cost of a  Dubai Desert Safari ticket depends on the kind of experience you are looking for and are available in varying price ranges. It usually starts from AED 149.
Q. When should I book a Dubai Desert Safari?
A. It is best to book your Dubai Desert Safari tour several weeks in advance, especially if you are traveling during peak season. You should purchase your tickets online to book your tickets in advance.
Q. Can I still do a Dubai Desert Safari if I'm not comfortable riding a camel?
A. Yes, there are many other activities that you can participate in during a Dubai Desert Safari. You can try sandboarding, quad biking, or simply enjoy the views from a traditional Bedouin tent.